The Zulu name given to my dad was Mastelek, the strong one
A dark night
The roads in the Natal Midlands after the First World War were dark and dusty at night. There were very few tarred roads and not many cars. The Union of South Africa had been established a decade before with Louis Botha as the first Prime Minister and the country was busy expanding its rail network. In the Midlands, the trains were required for the wattle and sugar cane fields. Jan Smuts was the current prime minister and ESKOM, the power utility had just been established and the country was planning widespread deployment of coal fired power stations. Currently with rolling blackouts hitting the country we are going back to those times.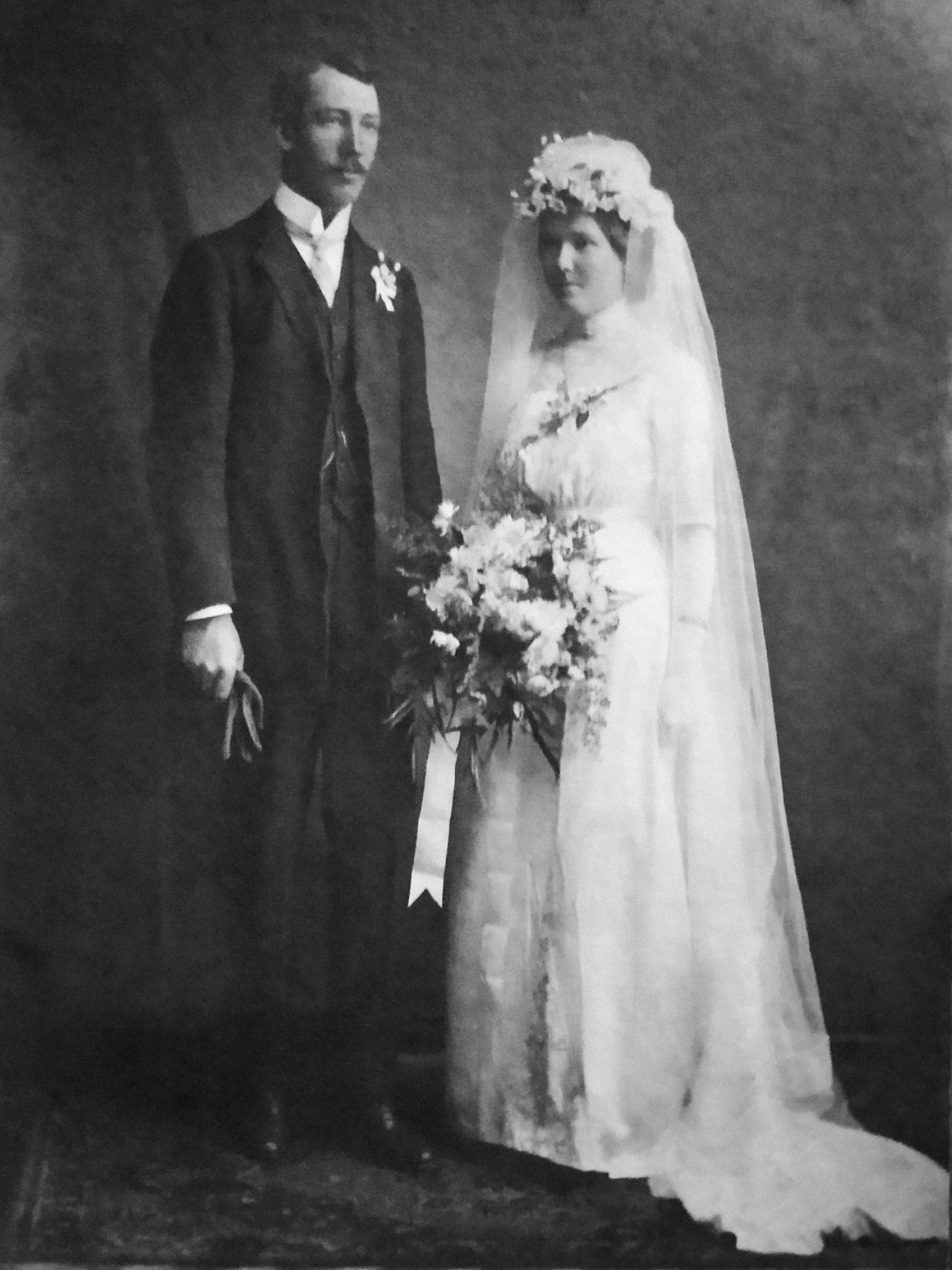 My paternal grandmother and her sister's family were in a car which on one dark night collided with a train. The result was the death of her sister's husband and their two children. My grandmother and her sister survived although they each had numerous broken bones. In those years, cars were rare and mass production had only started a decade before in the United States of America. The owner of that car was Herman Gielink who was relatively well off and a successful farmer.
Herman's father had tragically committed suicide on losing his cattle to riderpest. He did this in his bed, with the white bed sheets being soaked in blood and leaving an impression on everyone who saw it. He was buried just outside the boundary fence of the cemetery at the Lilienthal church near Dalton. His deed was deemed to exclude him from being buried amongst his kin. Ironically, he had no financial difficulty as the land and the wattle trees growing on them were sufficient to make him suitably comfortable. His son Herman inherited this wealth.

I can imagine the pain of Hulda, my grandmother's sister at the loss of her husband, Herman Gielink. I have experienced something similar with the loss of my own wife. The feelings associated with the loss of her children would have been amplified as I have also lost a child. When my dad was born, nearly a dozen years after the accident, Hulda was his godmother and they formed a tight bond
Hulda went to stay with my grandmother and Gielink's farm was one on which my grandparents lived and farmed. My grandfather as a result was secretary of the local farmer's association that owned a butchery. Hulda received a substantial inheritance from her husband but would squander a significant portion in funding the cult movement established by Engelbrecht after the Second World War known as Bible House. She was easy prey given her circumstances. This cult was the forerunner to the Kwasizabantu cult which is written about in this article: The Queen of Sheba. If that train had not been on that tracks that night, Herman would not have died and the cascading of events that triggered it would not have happened including the eventual establishment of the Kwasizabantu cult.

The pocket watch
My father was given Hulda's husband's pocket watch. Herman had it in his pocket that fateful day and it was one of his prized possessions that he inherited from his father. The first wristwatches had only been worn a few years before in the First World War and were not yet widely popular. Wristwatches were invented by Cartier for a pilot friend. They became popular amongst pilots and soon after that amongst the general population as they were more practical but in South Africa at the time of the accident, they were still scarce.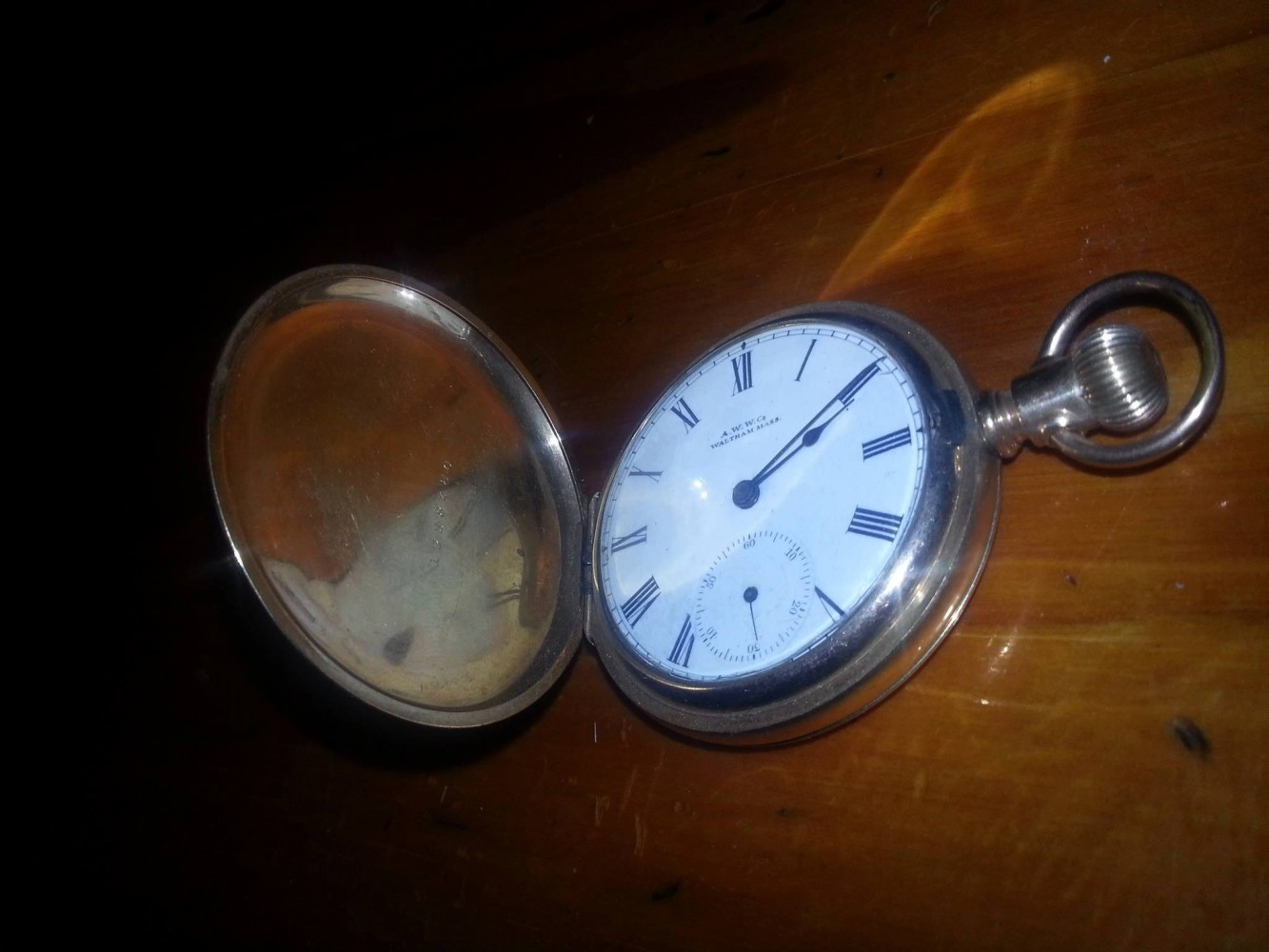 The pocket watch is an American Watch Company one with serial number #1238480. It was manufactured at the time of the First Boer War by Waltham in Massachusetts and would have been in use for more than forty years before that accident. Since then it was in a drawer during my father's lifetime and in a display cabinet in my house.
The pocket watch does not tell a story. It is a reflection. It does not know the horror of the accident or the pain of a mother and wife. I do not collect watches but here it is, the last memory and association of a family that ended tragically on a train track.
Explosion
My dad also nearly did not make it further than his twenty second birthday. After he completed High School, he went to work on the family farm as his dad was too ill to continue by himself. He was involved in a petrol tank explosion soon afterwards. He welded a leaking tank, not realizing that even though it was empty the fumes would explode. His life was saved by a doctor who had served during the Second World War in North Africa and was familiar with treating the burn wounds that often-inflicted soldiers that had been under attack with artillery incendiaries. The healed burns were visible on his body, especially his legs and balding head. My dad would not have survived if the skills of an experienced burn doctor were not available in the improbable backwater of Greytown, KwaZulu-Natal. The doctor suggested altitude treatment and as a result my dad became a pilot. The flights were subsidized and thus cheaper and a minimum of fifty flights were required.
During this time in the early fifties Engelbrecht started his cult. My father's brother Heinz was forced to leave school at the age of fifteen to take over my dad's responsibilities on the farm while he was recovering in hospital from his burn wounds.
The bastard
When my dad finally recovered from his injuries the farm on which my grandparents lived was not a pleasant and welcoming place. His sister had been raped and the Engelbrecht cult had forced him to distance himself from his family. So, my dad leased a farm named Seafield in Richmond from a wealthy landowner in that area of the province. The terms of the lease were so written that a missing payment would result in a forfeit, but after several years, my dad would become the owner. My dad was struggling to make the payments, so he went to visit the landowner. When he arrived at the house of the landowner, he encountered the wife walking down the driveway. He said he had come to talk to her husband, and she responded by saying her husband was a bastard and continued down the driveway and left. The talks with the bastard were not fruitful and my dad was coming to terms with the realization that he would lose the farm. He also heard that the landowner had written up these types of contracts before with other leasees and had seized the farms on default. He was helped in making payments by some of his school mates, most notably Rolf Wohlberg who would later be the best man at his wedding.
My dad would buy the Natal Witness religiously every day. He says that one day, on the front page, the headline story was about his nemesis. An attempted reconciliation between him and his wife had ended in disaster. She had shot and killed him. He went to see the lawyer of the estate, who handed the farm's lease papers over to him. It seems the lawyer wanted one less problem to solve. My dad said he immediately went to the pub to celebrate with his friends and school mates. It was an amazing bit of fortuitous tragedy.
He was still in social contact with his family and one Christmas Eve in a conversation with his brother Heinz, he boasted that he could run the Comrades Marathon. His brother said that if he ran it he would easily beat my dad's time as he weighed less. The Comrades Marathon is a yearly ultra-marathon between the two Kwazulu-Natal cities of Durban and Pietermaritzburg. My dad completed the race finishing in 69th place while running in tennis shoes. His brother never ran the race. My father would proudly wear his Comrades jacket and his stories of the race influenced my brother to attempt it as well. My brother would eventually complete ten Comrades Marathons, including several silver medals. Both my father and brother have plaques on the Comrades memorial wall.
At the start of the sixties South Africa had a referendum to become a republic. My dad was in the middle of Natal which widely voted against becoming a republic. My dad however, decided to be part of the ones who wanted a republic and assisted at the voting tables for becoming a republic. One of the teachers at the school in Richmond decided to teach my dad a lesson for being so cheeky in his opinion and attempted to burn down his property, the Seafield farm. He was caught out, apprehended, and lost his job. The man he met at those table was Jood Jordan who would play a greater part later in my life as told in this story: Cosmos, Blackjacks and Kharkibos.
Shortly afterwards he met my mother at the wedding of his neighbour Pierre du Toit. My mother was the only daughter of JT and Joey Elliott. Joey was in fact Johanna Maria Magdelena nee Bruyns. Joey was a bit perturbed that her daughter was interested in a wattle tree farmer from the sticks in Richmond, but JT said he trusted his daughter to make her own decisions.
My dad sold the farm in Richmond and used that as a deposit together with an inheritance from Hulda and a Land Bank loan to buy three farms in the district of uMshwathi. This is the farm named Oakvilla that would be my home for the first fourteen years of my life. He farmed vegetables which included potatoes. I clearly remember the variants as BP1, Up to date and Pimpernel. We also had cabbages on the farm and the occasional crop of Madumbis.
My dad would regularly wake up before 3 am in the morning. He would say it was because he had been a farmer, but I later found out the reason was far more disturbing. He was unable to sleep due to having witnessed traumatic events. My dad was a police reservist when I was still in primary school. He was a Sergeant and one day he just stopped his duties. Later I would find out from him that he had been transporting a prisoner to the police station. At the New Hanover police station, the Captain walked out, removed his pistol, and executed the prisoner. That Captain would eventually end up in prison and appeared before the Truth and Reconciliation Commission following the years after the first democratic elections in South Africa.
Stelek Stumper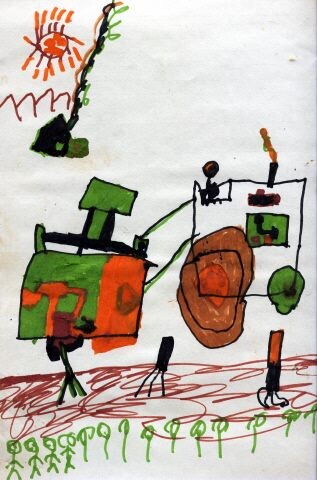 My dad famously invented a tractor powered tree stump remover that was damn good. He never profited out of it but I was impressed enough to draw a picture of it as a youngster.
My cousins proudly relate a story of how he demonstrated his invention at a farmer's show where he removed stumps that a Caterpillar bulldozer was unable to uproot.

My dad would eventually come and live with me in the last years of his life. He was diagnosed with Parkinson's and told me he did not want to die in pain like his own dad of the same disease. His last month was like that as he had lost the ability to speak. One day he was struggling to breath and an ambulance was called. They immediately rushed him to Fourways Life Emergency. When I arrived there, I was dressed in my work suit and tie. There was no-one at his bed, so I picked up the file at the end of the bed and started reading it. The emergency doctor came in and started relaying medical terms to me, most of it being gibberish to my ears. I nodded waiting for an opportunity to interrupt him. After about a few minutes, I realized he had mistaken me for the referring neurologist, who he had just requested be called. When he finally stopped speaking, I said to him this was my dad. Instead of drawing the conclusion that I was not the referring doctor but the son, he assumed I was both! He told me bluntly that we both knew it was terminal. I told him that my dad had told me he did not want to die in pain like this. The emergency doctor nodded, said he understood and said he would admit him to ICU, and have morphine administered. I said yes and immediately my dad was on a drip in ICU. I never corrected the misunderstanding with the emergency doctor.
I had morphine administered as well when I had broken my leg on the rugby field. It does wipe out the feeling of pain. My dad died within a few hours and that event was a relief. In the last moments of his life a set of co-incidents had occurred in a similar manner that had happened previously in his life, that made things better and he went without pain. If they day comes, I hope someone is around to do the same for me. as my morality is not to live life as a vegetable.
We buried my dad out of the Lutheran church in New Hanover. There were many people from the district who attended. My son Callum sat in the back of the church with his other grandpa Owen Hendry. The pastor started the service reciting in German the Our Father, which translates to Unser Vater. Callum turned in shock to his grandfather and said that the man had just said the name farter. The congregation packed out laughing. I am sure my dad appreciated the service.
Collapsed scrum
When I was sixteen, I lay on a rugby field in Bloemfontein and experienced the worst pain ever in my life. I was involved in a rugby injury at Grey College in which my leg was shattered into pieces over a rugby ball. Broken in twenty-seven pieces, the doctor later told me. A loose scrum had collapsed on me. Initially I tried to stand, only to see my leg at a right angle. I lay on the field in pain, clawing out tufts of grass with my fingers. They started bleeding. The coach came over to look and then phoned for an ambulance. My leg was in spasms. A kind-hearted teacher, whom we called Os, came over to inquire about how I felt. To Os's shock, I swore. I was taken to Universitas Hospital by ambulance and administered morphine. Since I had just eaten breakfast, I lay in the emergency room for eight hours before having the operation to reset the bones in my leg. I would wear a plaster of Paris cast from my toe to my hip for sixteen weeks.
My medical expenses were paid for by the newly established Chris Burger fund. In the hospital, I have vague memories of several different visitors, but I was too drugged up to recognise or remember them. The Chris Burger fund was created to assist players injured while playing rugby. I always thought Chris Burger died on the field at the Free State stadium in the year that I started at Grey College, but in fact he died the next day in same hospital that I lay in two years later.
I was in same emergency room in which Chris Burger died and most probably had the same doctors. A loose scrum collapsed on him, just as with me. He died, I lived.
Oakvilla hunt
Along life's path I have experienced pain and even witnessed traumatic deaths. Some are equally as bad and others even worse than my experience on the rugby fields of Grey College. These included very early encounters with people dying. I was there when we found the neighbour's son drowned and at the bottom of a swimming pool. I also witnessed a worker on the farm breaking his neck and dying after being run over by a Reedbuck. On the farms in the Natal Midlands the sugar cane would be burned before harvesting. During these burns, workers would control the fires using large wet sacks attached to poles or mobile water tanks and pressure hoses. The cane fields contained large number of cane rats called ivondo and the burning cane would result in them beating a hasty retreat. As the Zulu workers considered them a delicacy, they would stand off at the edge and bludgeon them using knobkerries. I was standing off behind these workers when a Reedbuck emerged at full tilt into a worker. The Reedbuck was knocked off his feet but then regained its footing and ran off. The worker lay motionless in the grass.
None of these, however, equate to existing in a debilitating environment. Physical pain, although, extremely difficult to process is less of a problem to desensitize than psychopathic intimidation and manipulation. A person can make a conscious choice to remain in a less than optimal environment for personal gain. Is it worth it? When the loose scrum collapses in that environment, it is not a question of your life being lost, but your soul. Many people have lost their souls to cults and political parties or groupings such as my dad's siblings and their entrapment in cults.
My dad would do the twelve hours round trip in a Mercedes 300D or Nissan 1400 bakkie so that I could attend Grey College and provided and paid for me to be educated at the University of Stellenbosch. He encouraged and wanted his children to attend University and my brother and I graduated at his insistence and encouragement.
Amundsen
My dad's hero was Albert Schweitzer but mine is Roald Amundsen, the first human to reach the South Pole and the North Pole. I recall watching a documentary of Scott and his race to the South Pole where Scott succumbed, and Amundsen survived. It was in black and white, and we watched it on the Telefunken in the farmhouse. The documentary left a lasting impression.
Amundsen's expeditions benefited from good equipment, appropriate clothing, concentrating on the primary goal, an understanding of dogs and their handling, and the effective use of skis. He pioneered an entirely new route to the Pole and successfully returned.
In Amundsen's own words:
"I may say that this is the greatest factor, the way in which the expedition is equipped, the way in which every difficulty is foreseen, and precautions taken for meeting or avoiding it. Victory awaits him who has everything in order, luck, people call it. Defeat is certain for him who has neglected to take the necessary precautions in time; this is called bad luck."
He was one of the most meticulous planners in the era of explorers. He was extremely detailed in the way he made certain he had the right equipment and it worked. Amundsen was meticulous about his inventory and tested and made sure all his equipment was workable. He also made sure that all his team members were familiar with using the equipment.
Amundsen's integrity was also without question. He correctly recorded his journey's and unlike others, namely Cook and Peary, he did not make false claims about reaching the North Pole. He is a role model about keeping to the facts and not making subjective assessments.
The person who competed with Amundsen as mentioned to reach the South Pole was Scott. Scott's expedition was tragic. Scott was ill prepared and a romantic. Although I have empathy for Scott's bravery and idealism, Amundsen is the man to be most admired.
The lesson here is that there is no time to learn the trade or tools required while working or delivering on a task. You should have practised or simulated the tasks to be performed well in advance. Your luck depends on being well prepared and organized upfront, just like Amundsen.
I would not be a polar explorer but have a career involving computers. In dealing with technology, the human component is often underestimated, and I have modelled my interactions against those of Amundsen.
Fruit fight
My brother's favourite story about our childhood was when our parents decided on taking a holiday to see the Namaqualand flowers. It was during school term, so they dropped us off at the cousins who went to the same school, Wartburg-Kirchdorf. On a weekend we became involved in the mother of all fruit fights which we all thought was awesome fun. That night at the supper table, our uncle Hogart Joosten said grace and then encouraged everyone to repent for their sins. This was a ritual they did as being part of the Kwasizabantu cult. My brother and me sat at the end of the table and stared in disbelief as each of our cousins ratted us out about the fruit fight. Somehow that was a sin. When it was my brother's turn, he said he had nothing to say. Feeling I had to support my brother I stood up and declared while showing my biceps, "We are Amastelek!". Mastelek was my dad's given Zulu name, which means the strong one. I grew up believing this was his real name. It was a shock when I discovered it was not. It was a greater shock when I discovered my own name was not BB. This happened at my first day of school when I ignored the teacher, Miss Hopkins, who called me Ronald.
Hogart Joosten would be the treasurer at Bible House and an ardent support of Stegen at Kwasizabantu. Many of his children would integrate themselves into being lifetime adherents of the cult.
My dad's expertise in growing the best cabbages and potatoes in the district was largely recognised by all and sundry. He had a knack for it. My dad was one of the best farmers or a Boer as they would say in Afrikaans. I am not a Boer. But I am now Mastelek.
This article was published over at LinkedIn: The strong one