As a teenager I sat in the Reunie Hall at Grey College in Bloemfontein and listened to Sir Laurens van der Post. It was in the immediate years before Die Groot Krokodil's Rubicon speech and many of my school mates were not convinced a democratic South Africa was viable. It is probably the greatest speech that I have ever heard where I was physically present. His central message and philosophy related to building bridges. It was obvious that he meant us to build bridges between different races and cultures. One of my mentors, Oom Jood wrote Die Groot Krokodil's speech which was then changed without him knowing and it was never delivered in the form he wrote. It was left to FW de Klerk to make the historic announcement four years later which resulted in the release of Mandela and the unbanning of the ANC. Sir Lauren's advice was awesome but not the best. He was one of the world's greatest thinkers and philosophers but for me the best advice come from another source. It has nothing to do with work, technology, politics, or ambition but life.
It came just before the dawn of the new millennium when I met the girl I would marry. She said two words.
In our time together which would stretch to a dozen years she would often repeat those words. The words became a strong bond and a thread that held our life together. I was there when she died, from complications due to undiagnosed coronary artery disease. I do not hear those two words anymore.
"Kiss me"
It was a normal day in our lives and by mid-morning Kath was gone. The memories remain and every so often, there is something that reminds me of her. The clouds in the sky, where she would lie on the front lawn with the boys and look up into the beautiful Jozi sky and point out the shapes of animals, especially dogs (mostly Poodles and Dachshunds). I often look at those clouds and see angels.
Rationally angels do not exist but the belief in them is strangely comforting. It makes it easier to deal with and process loss and heartache. They exist to help us through difficult patches in our lives and in that context make perfect sense. I hope to be someone's angel.
In life we leave digital and physical footprints. It can be a picture embedded in a web site or the memory of an angel.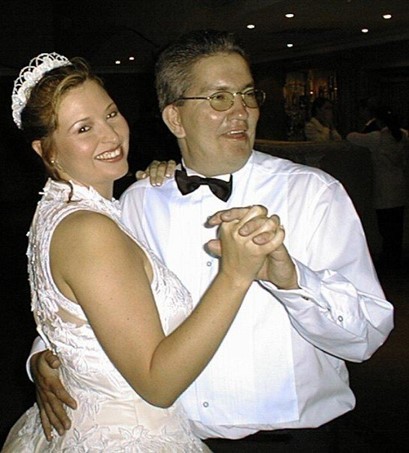 Kath and I shared a common Scottish heritage. Nothing is more indicative of Scotland than the Tartan. Historically very few Tartans, or plaids, were associated with specific Scottish clans or regiments and the wearing was based more on individual taste.
Following the defeat of Bonnie Prince Charlie, the wearing of kilts and tartans except by regiments was banned by the Hanoverians. The same ones to which my ancestors swore allegiance. When these restrictions were lifted there was a revival of Scottish culture. Sir Walter Scott arranged for George IV to tour Scotland during this time and the King proudly wore the Royal Stewart tartan. He hosted a great ball for the leading families of Scotland, who all wore traditional dress. Most family tartans are the plaids that were chosen by the Clan Chief to wear to this famous ball where the participants were all required to be dressed in different tartan. As an example, the tartan for the Elliot clan was the one worn by the Earl and Countess of Minto. While not the Chief, the Earl held the highest aristocratic rank.
Life is hard but then there are times its awesome. Love is an ocean of waves and storms.
Birth is an awesome experience and I have been there when all my sons were born. I do not understand how some treat it as frivolous and walk away. I can understand how It affect George Grey and how as a legacy he started Grey College as a legacy to his son.
My second son Ray had a problem with his kidney that was detected by the gynaecologist during pregnancy. He had an emergency birth about a week before he was due. The sound of his first cry was awesome. Six weeks after birth he went in for a pyeloplasty. Pyeloplasty is major kidney surgery and he remained in ICU for weeks. Although it was hectic, he now has two 100% functioning kidneys.
Callum was next and everything was perfect. There were no problems during pregnancy and the birth went well. I was with him in the recovery room when the nurse hit the crash button. He had developed a hospital lung infection and was taken up into ICU where he was put on a ventilator. He came out of ICU three weeks later. I do not think he has any problems with his lungs now because when he is angry you know about it.
Our first son was Daniel, and he would never take a breath of air outside of his mommy's womb. He had a horseshoe kidney and as a result was unable to develop his lungs. His heart was as large as his chest cavity. This was discovered at 16 weeks and after a second opinion it was determined that terminating the pregnancy would be the best course of action. I signed the court orders and slept the night of the abortion on the floor of the hospital.
Daniel, like his mommy is an angel.
This article was previously published on LinkedIn: Angels