Why would any one want to change from legacy wide area networking to software defined wide area networking (SD-WAN)? See the above infographic for more details about the technology. There needs to be a business reason for it and not a technical one. Techies, the type
who don't create documentation
, tend to solve problems bottom up. The technology is chosen first, then there is a retrofit of underlying processes to fit with that technology, and finally the business is coerced to wave the wand at the newly acquired widgets. This engagement model is the reason why so many projects around technology fail to deliver on business value. Simply put the problem that is being solved is not one underpinning business.
A man a million times smarter than me explained it perfectly above.
"Starting with the customer" does not mean you double down on your app when 70% of your target audience simply do not use it ...
The correct approach is to start at the business - from the top down. The process is detailed in the article, "The skeleton of a Request for Information". The approach may vary from a service provider and enterprise as they have different underlying critical success factors.
Service provider critical success factors
For a service providers the critical success factors could potentially be:
Reduce churn. Poor service assurance in the legacy environment can be corrected during the technology deployment.
Reduce headcount. SD-WAN requires less resources to manage the same number of links.
Improve revenue by reducing the time between ordering and billing. This is as a result of quicker provisioning and activating of services for the last mile.
Reduce operational costs. Use different regional distribution technologies such as Carrier Ethernet* instead of MPLS, but still provide the same functionality,
Be competitive. As stated in this article on Network World, that service provider market is going to be invested heavily in SD-WAN in 5 years. You can't compete if you are not in the game.
Enterprise critical success factors
For the enterprise the critical success factors could potentially be:
Improve employee productivity. Implement branch office solutions that provide better availability and reliability.
Improve corporate reputation for data protection. Ensure that the network is not vulnerable to breaches or penetration.
Reduce operational costs. This is achieved by leveraging cloud based technologies for operational efficiencies.
Different type of headcount. Reduce the reliance on telnet jockeys and rely on orchestration.
These factors mentioned above can be used to state the business requirements for SD-WAN technology. This can be used to form the basis of technical functional specifications that include the underlying processes. Finally, you can now specify the scope of work and choose your tin or poison of preference. The described method has a higher probability of success than the techie bottom up approach.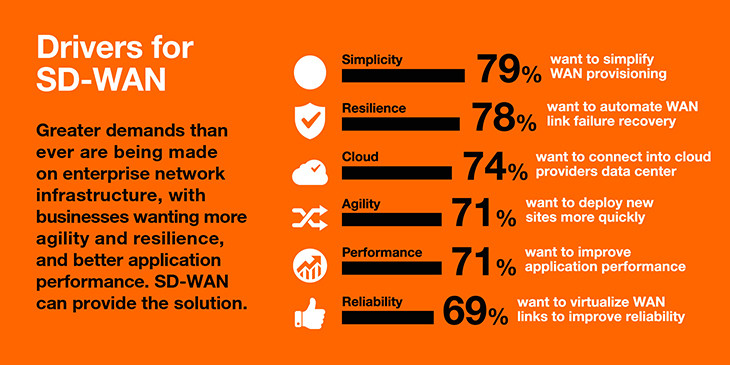 Orange Business Services provides the following SD-WAN drivers and lists in priority what customers have stated as feedback in a survey. One of the fundamental drivers is not make connectivity less of a hassle, a.k.a. the KISS principle. One of the first articles I wrote here on LinkedIn about #SD-WAN was based on this theme and titled "The primary goal of SD-WAN should be to make networking less complicated".
Ronald works connecting Internet inhabiting things at Fusion Broadband. Please comment bottom up if you have any top down views.
* Carrier Ethernet has the following benefits:
Ubiquity. Carrier Ethernet is an established, well-defined, standards-based protocol that's easy to deploy and simple to manage. Unlike many protocols that tend to require a fair amount of tweaking to get different vendor solutions to inter-operate, the Carrier Ethernet specification is so well-defined that any solution from any service provider will likely work with any other. Also, because Carrier Ethernet operates at layer 2, there is no requirement for any kind of LAN-WAN conversation technology or multiple routing protocols.
Cost effectiveness. The provisioning of Carrier Ethernet connectivity is much cheaper than other services like ATM or other leased line circuits. An example, is the cheaper cost of any customer premise equipment.
Flexible technology. Carrier Ethernet is able to be deployed in a number of topologies and media.