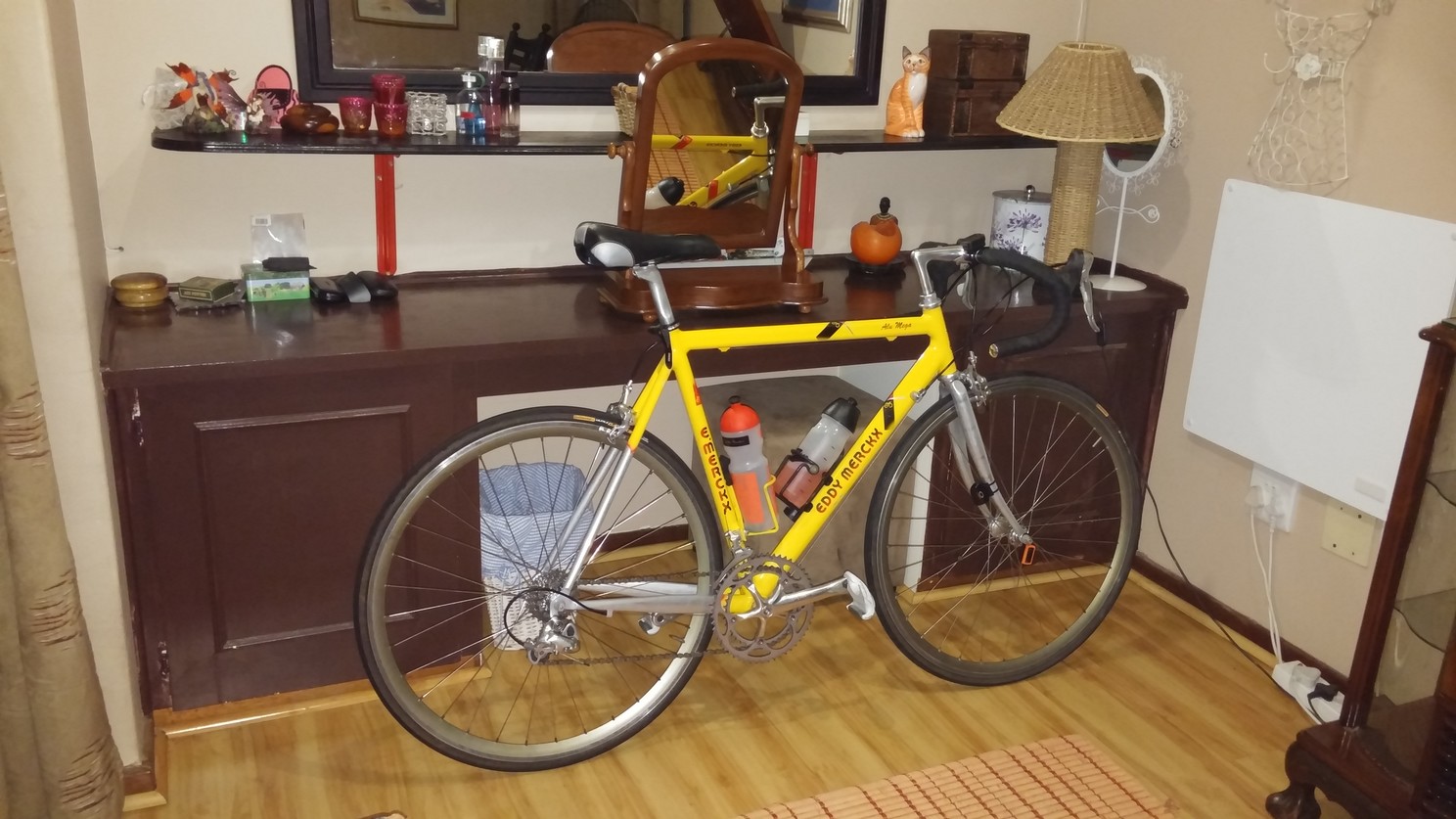 "I chose to race, so I chose to win."
Eddy Merckx, born 17 June 1945, is a Belgian considered to be the greatest pro-cyclist ever. He sells his own line of bicycles and I have owned one since 1997. He is one of my heroes and his never-equaled domination while cycling led to his nickname, when the daughter of one French racer said, "That Belgian guy, he doesn't even leave you the crumbs. He's a real cannibal."
The French magazine Vélo described Merckx as
"the most accomplished rider that cycling has ever known."
Merckx, who turned professional in 1965, won the World Championship thrice, the Tour de France and Giro d'Italia five times each, and the Vuelta a España once. He also won each of the professional cycling's classic "monument" races at least twice.
Merckx dominated his first Tour de France winning by 17 minutes, 54 seconds. But it was Stage 17 that was most emblematic. Though comfortably in the yellow jersey, victory assured if he merely followed his rivals as modern champions do, Merckx risked blowing up and losing the Tour when he attacked over the top of the Tourmalet then rode solo for 130 kilometres. He won the stage by nearly eight minutes.
Merckx set the world hour record on 25th October 1972. Merckx covered 49.431 km at high altitude in Mexico City using a Colnago bicycle to break the record, which had been lightened to a weight of 5.75 kg. Over 15 years starting in 1984, various racers improved the record to more than 56 km. However, because of the increasingly exotic design of the bikes and position of the rider, these performances were no longer reasonably comparable to Merckx's achievement. In response, the UCI in 2000 required a standard or more traditional bike to be used. When time trial specialist Chris Boardman, who had retired from road racing and had prepared himself specifically for beating the record, had another go at Merckx's distance 28 years later, he beat it by slightly more than 10 meters (at sea level). To date, only Boardman and Ondřej Sosenka have improved on Merckx's record using traditional equipment.
Although Merckx's great moments were alone, he had those leadership qualities of when it countered he was motivated to win. He didn't just win, he did the best he could, which exceeded expectations like in that first Tour de France win. He was also like Amundsen (read about him here) in that he was an expert in the use of his equipment which was highlighted when he set the benchmark for the world one hour. My Merckx bike is held in such high regard that I have it in my bedroom to prevent it being stolen!
This article was originally published over at LinkedIn: Learning from great leaders, Eddy Merckx