wtraf - Watcher Traffic SNMP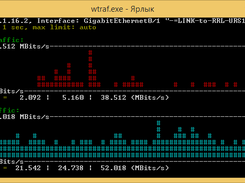 In the course of his work (administration of active equipment) he faced the need to quickly obtain online data (preferably with a schedule) of incoming / outgoing traffic on the network interface via SNMP. In this case, always comes across such equipment that either does not enter the monitoring system, or requires statistics to be viewed more often than once a minute (as rrdtool). And in the arsenal, often, only the server console on Windows or Debian.
Download the tool
here
or checkout a more comprehensive list of tools
here
.